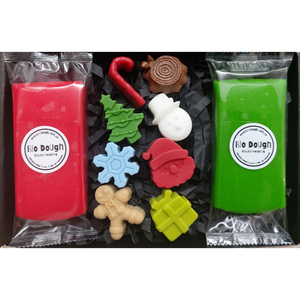 Bio DoUgh Figurines - the newest, most unique sensory experience! 
Bio DoUgh Figurines are safe, natural, colourful, stimulating and fun additions to your kids' Bio DoUgh playdough creations. Whether decorating the tree, placing the Christmas gifts under it or bringing on Santa and snowman, the possibilities are endless.
Christmas Season contains kids' favourite Christmas Figurines ⛄🎁🎅🎄with a Red & Green  Bio DoUgh Samplers.
Made of 100% natural ingredients.
100% Vegan Wax
Biodegradable
All ingredients are Certified Food Graded
Bio DoUgh Figurines are waterproof and reusable! (washable with cold water)
Handmade in Australia, from all-natural, food-graded ingredients making it totally safe if some end up in your little one's mouth by mistake.
Comes in a black gift box.
23 x 15 x H=4cm
* Choking hazard for kids 3 years old and below. Kids 3 years+.
Adult supervision required.